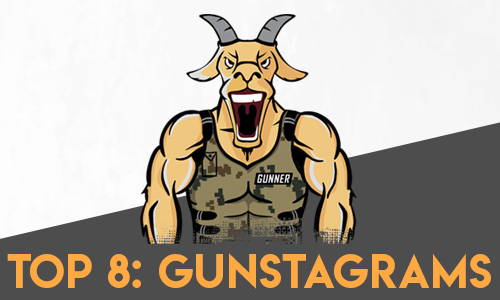 TOP 8 BEST INSTAGRAM GUN ACCOUNTS
sAY YOU LOVE GUNS BUT YOU DON'T FOLLOW THESE?
There are thousands of gun enthusiasts on Instagram. Since Instagram is the place to showcase beautiful pictures, and guns are b-e-a-utiful then it's no wonder some of these accounts have racked up hundreds of thousands of followers.
Here at Goatguns, we also love Instagram even though it often hates us.
(Yes, we lost @goatguns when it was 65,000 followers strong. We had to make a new one @goat.guns which, fingers crossed, is within their TOS).
It's a great place for businesses to collaborate with their fans. We get good feedback on our miniature replica guns as well as badass fan photos of them. As long as businesses and niche fan pages use Instagram as a place to ENGAGE with their followers, everyone will continue to benefit.
With that being said, here are Sgt. Gunners TOP 8 Best Instagram Accounts for Gun Enthusiasts: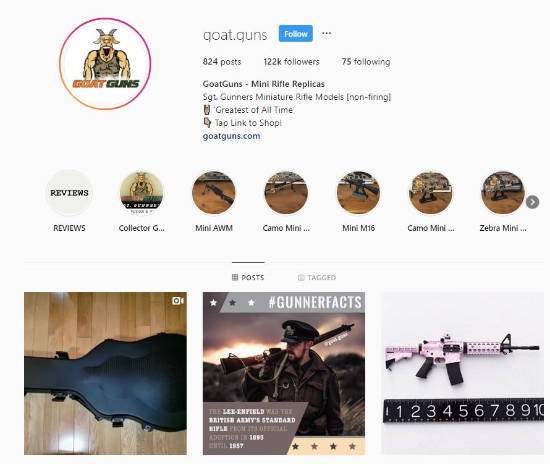 Well damn... we're biased.
We put ourselves in the #1 spot! OOYAH
On @goat.guns we do our best to engage and have fun with our followers. The number of likes and comments we get per photo are more than many gun accounts with 500,000-1.5M followers!
We do our best to keep things unique, funny and throw in some #GUNNERFACTS at ya every now and then so you are learning something new too.
---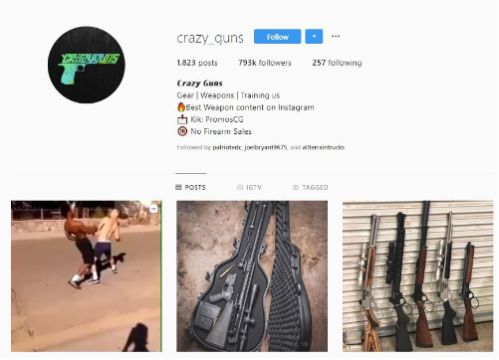 One of the OG gun accounts of Instagram, @Crazy_guns keeps things exciting with a history of over 1800 posts.
Something to look out for when you follow large gun (or any fan pages on Instagram) is a mass of ads a.k.a shoutouts. @Crazy_guns keeps these to a minimal and frequently posts good gun content.
You shouldn't get bored of their stuff anytime quick as it caters to the large following of gun enthusiasts.
---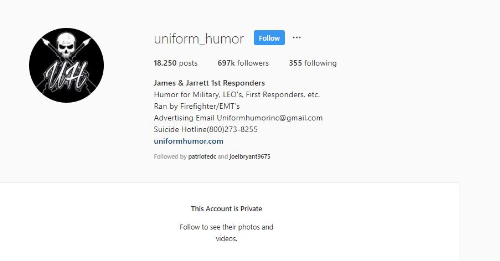 One of Sgt. Gunners favorite accounts to burn some time on is @uniform_humor.
Full of unique, funny and engaging content - this fan page's followers are active 'AF'. This page has built a full community of military personal and fans that engage with the latest and funniest military way of life.
They post quite a bit so it may jam your feed up (close to 19,000 posts as of 3/2019) but the posts are worthy of your scroll feed.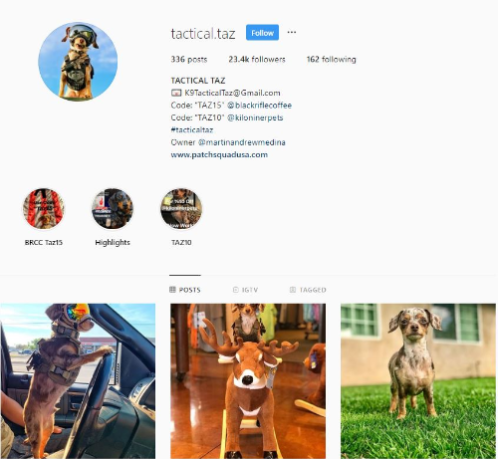 @Tactical.taz is one badass pup. This dog is always rocking some fine head gear and tactical vests.  
Pictures are always clean and crisp and he has been seen to have some fun with our miniature guns as well (images to follow). You'll get a kick out of every post that comes from little Taz-man.  
He is a dog patriot and his own often opens up about the good that Taz has done in his own life.
Oorah Tactical Taz!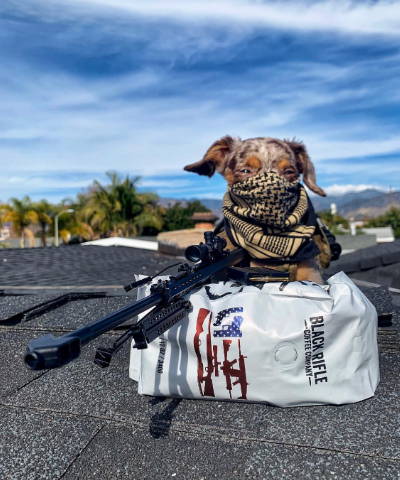 ---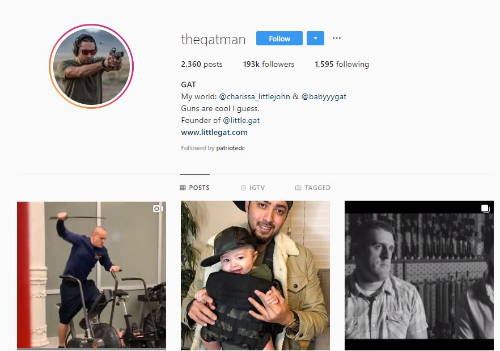 Founder of 'Little Gat' product and (husband or bf, not sure) to @Charissa_Littlejohn, a military badass herself - @TheGatMan is a thoroughbred. He has some videos with hundreds of thousands of views (example) and has some great pictures of gun loadouts.
You'll connect with him on a personal and fan level as he shows off pictures of his new kid and new guns.
---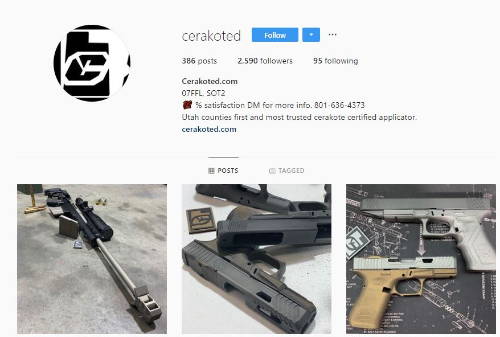 @cerakoted - Amazing cerakotes done on various types of firearms
We are HUGE fans of unique firearm coatings. Whether it be cerakoting or hydrofilimg, we love to see some creativity. We even hydrofilm our miniature rifles such as the $100 sniper & USA flag AR15.
@Cerakoted has some amazing cerakote jobs done you can check out. From USA AR15 & pistols to the Maple Leaf of Oh Canada bright and Red on a M4. They never post ads for other companies, it does have a smaller following but has excellent photos worthy of your Insta-feed.
---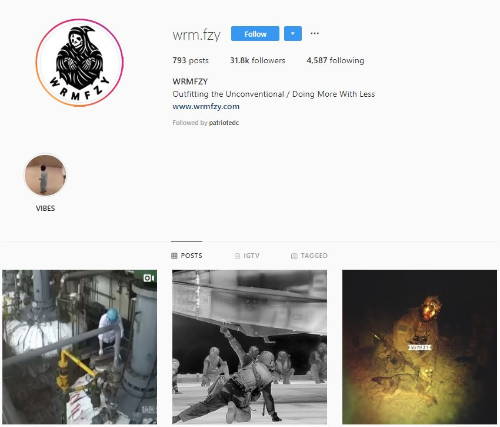 @wrm.fzy - Extremely unique, uncut (raw) images of military, guns & random
Hold your breathe and squint your eyes any time you see a new post from @wrm.fzy, you never know what you are going to get!
These guys do limited drops on items they make (apparel, rutsacks and whatever else they may feel like doing). Aside from their merchandise, their feed is always interesting. They have some big followers from other Veteran companies which are well earned.
We would suggest this as a 18+ community. They have great facts, images and a vibe that makes them worthy of our Top 8 and of a 'Follow' from you.
---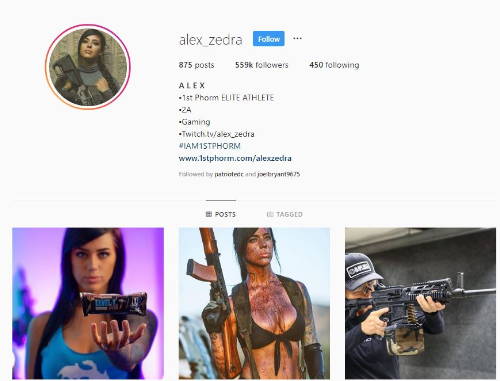 @alex_zedra - Guns, Video games, Cosplay video game characters
Alex Zedra has got style and aim. Also a streamer on Twitch, she is a video game lover at heart and plays mostly FPS games such as: Siege, PUBG, and APEX Legends. She recently started an apparel company with her boyfriend @eli_doubletapp and they have some great designs.
Following @alex_zedra will give you some ads in your feed but they never feel spammy. She knows her guns and loves her dog Cookie.
---
There you have our top 8 'MUST FOLLOW' Gun accounts on Instagram. There are DOZENS more out there, we tried to find the most unique ones that we enjoy following.
Many of the other Gun instagram accounts just recycle popular content and photos so you aren't getting actual unique content in your feed (but still great pictures).
Did we miss your favorite gun/tactical/weaponry account in our list? Let us know yours below and why you are a fan.